STOCK ASSESSMENT
Last updated on 4 October 2011
Coho salmon that spawn in Washington and Oregon (primary contributors to catch), as well as in California (minority contributors to catch) are harvested in mixed-stock ocean commercial troll fisheries as well as in recreational ocean fisheries and more terminal "inside" marine and freshwater fisheries. This profile is devoted particularly to the troll fishery component of the harvest, which currently takes place off the coasts of Washington and Oregon. There have been no directed fisheries off California since 1996 in order to protect ESA-listed populations. In 2001-2012, commerial troll catches landed in Washington and Oregon averaged 44,000 fish/year.
The Pacific Fishery Management Council (PFMC)'s annual review of ocean salmon fisheries (e.g., http://www.pcouncil.org) provides a summary of biological and socio-economic data to assess the status of managed stocks, impacts of past management actions and the performance of fisheries in relation to management objectives.
Harvest Monitoring
An extensive sampling regime to estimate harvest and related statistics is specified in the anual PMFC Fishery Management Plan (http://www.pcouncil.org/salmon/fishery-management-plan/current-management-plan/). Data on the harvests by commercial and treaty Indian ocean fishermen are obtained by telephoning selected (key) fish buyers and sampling the commercial landings on a daily basis. In-season data on the distribution, amount, and type of commercial fishing effort is obtained by one or more of the following methods: port exit counts, radio or electronic media reports, and processor reports. Analyses of fish scales, recovered fish tags, genetic stock identification samples, and other methods provide information on the composition of the stocks being harvested.
Stock Identification
An annual coded-wire-tagging (CWT) system is the basis for estimating the stock composition of the catch (http://www.rmpc.org/files/Nandor_CWT_Overview.pdf; http://www.psc.org/info_codedwiretagreview.htm). The CWT program is the backbone of stock assessment and research for exploited coho and Chinook stocks off the west coast of North America. CWT indicator stocks also provide the only source of separate freshwater and marine survival information. CWT data are used to model domestic and international fisheries based on CWT release and recovery data, as well as to simulate escapement by stock and total mortalities by fishery and stock.
The CWT program is applicable to all stocks in the fishery,but not all escapement indicator stocks have a CWT indicator, so the catch in the fishery is not known for those stocks. The CWT program is expensive and representative hatchery releases and fishery/escapement recovery sampling has been challenging.The 2008 U.S./Canada PST bilateral agreement for the conservation and harvest sharing of Pacific salmon under the jurisdiction of the Pacific Salmon Treaty assures the continued use of CWTs as the primary data source for managing fisheries covered by the treaty. The governments of Canada and the U.S. agreed to invest $15 millionto improve the coastwide CWT program.
Escapement Monitoring
Coho spawning escapements are primarily estimated from surveys of index systems that are expanded to a basin-wide estimate. These methods do not allow for the bias of the estimate to be assessed or for the precision of the estimate to be quantified. A stratified random sampling (SRS) study implemented in 1990 indicated an overestimation of annual Oregon Coastal Natural (OCN) spawner escapement, which had previously been based on index surveys. Alternate survey methods, such as mark-recapture, are designed to provide unbiased estimates and to estimate the certainty/precision of the estimate. These more robust estimation methods are not applied routinely or broadly within the distribution of natural coho spawning system. In addition, spawning escapement estimates are not available for some Coho Management Units (MUs). In these cases, escapement estimates are based on estimates of fishery contributions to a Coho MU and estimates of ERs of selected hatchery indicator stocks. These estimates have been included in the PMFC's Fishery Regulation Assessment Model (FRAM) for coho. However, independent escapement estimates (e.g., from spawner or redd surveys) are more desirable as inputs to the model, due to potential bias of model-generated estimates.
SCIENTIFIC ADVICE
Last updated on 4 October 2011
Annual pre-season modeled fishery projections are produced each year within the auspices of the PFMC and the Pacific Salmon Commission (PSC), and those projections are used to shape fisheries each year to maintain harvest impacts within pre-season expectations. The process of generating management guidelines for Pacific Northwest coho is transparent and science-based.
Nine coho stocks that spawn in Washington State are managed to achieve annual exploitation rate limits. Meanwhile, additional stock-specific exploitation rate limits are enacted through the Endangered Species Act (ESA) and Canadian recovery of Fraser River coho, which are intercepted by the US fishery. ESA standards in place for over a decade have restricted exploitation rates on Lower Columbia (LCN) and Oregon Coastal Natural (OCN) coho to 15%, a limit that encompasses both troll and inside fisheries. Meanwhile, ESA guidelines limit troll fishery exploitation of Southern Oregon/Northern California Coastal (SONCC) coho to 13%.
Meanwhile, through a PSC coho management plan adopted in 2002, US fisheries are constrained to an exploitation rate on Canada's Interior Fraser coho of no more than 10%.
Reference Points
Last updated on 04 Oct 2011
Within Washington State, the aggregated coastal escapement over the last 11 years (2001-2011) has been highly variable with a steep decline between 2002 and 2006 and a rebound to high levels in 2010. The rate of change based on the robust regression (Geiger and Zhang, 2002) has declined at a rate of 3% per year. Three coho stocks in the coastal aggregate (Willapa Bay, Grays Harbor, Hoh) show the same general pattern as the aggregate. Meanwhile, the Queets and Quillayute Fall natural spawners have declined more steeply at an annual rate of 4% and 6% respectively. Although there has been an increasing trend in escapement for these stocks from 2006 to 2010, the increase was lower compared to Willipa Bay, Grays Harbor and Hoh stocks (Figure 1).
The aggregate escapement for Puget Sound/Juan de Fuca Strait coho declined steeply over the same period of record (2001-2011) and has remained low since 2004 compared to the 2001-2004 period. The rate of decline for 2001-2011 was 7% per year for this aggregate (Figure 1).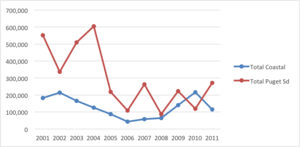 Figure 1: Aggregate escapement estimates for Puget Sound and Coastal Washington coho, 2001-2011. Both management units have exhibited declines in escapement during this time, but Puget Sound's declines have been more remarkable (PFMC 2013).
Coastwide within the Oregon Production Index (OPI) area (stocks in Washington State south of Leadbetter Point and in Oregon and California), aggregate escapements (1998-2012) have been highly variable with relatively high escapements in 2002 and 2011 and a near record low in 2007. The overall trend for the OPI area has been increasing at about 33% per year positive for the Southern Washington coastal aggregate mainly due to the very low escapements in the early years of the escapement time-series. Meanwhile, returns to the Columbia River component of the OPI (1998-2012) have been stable (-1% per year) but with a declining trend following a high in 2009. Finally, escapement in the southern OPI coastal stock component has declined overall by 6% per year (Figure 2).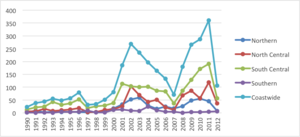 Figure 2: Escapement trends for Oregon Production Index coastal aggregates, 1990-2012. Northern and central aggregates have exhibited overall increases since 1990, but declines since 2009. The California stocks ("Southern") have declined since 1990 (PFMC 2013).
For all coho stocks in the Washington-OPI area, 40% for the 15 stock components have declined by more than 75% since 2001.
CURRENT STATUS
Last updated on 4 October 2011
Stock status for salmon is assessed based on multi-year escapement trends and performance against escapement goals (see synopsis under reference point section). A number of coho stocks in this region are listed as threatened according to the Endangered Species Act (ESA). See "Recovery Plan" section for more detail.
Trends
Last updated on 04 Oct 2011
Commercial troll catches since 2000 has been a small fraction (4%) of the catch in the previous 3 decades (Figure 3). This has resulted from a marked decline in productivity and abundance and strong regulatory action to protect stocks of concern and ESA-listed stocks beginning in the 1990s (Figure 4). Based on a robust regression method of Geiger and Zhang (2002), the rate of annual change in the Washington, Oregon and California PFMC Area aggregate commercial troll catch for the 2001-2012 reporting period (www.pcouncil.org) has declined by 5%/year (61% overall).

Figure 3: Commercial troll harvest has declined markedly since 1975, the last time that the troll harvest of coho salmon exceeded the recreational harvest (which has also declined significantly). Troll boat days per season exhibit a corresponding decline (PMFC 2013, Table I-4, 2012 data is preliminary).

Figure 4: Coho abundance, troll harvest, and exploitation rate on the Oregon Production Index (OPI) have all exhibited declines since the mid-1980s (PFMC 2013).